Let your business grow with Seed Paper
Many companies use Seed Paper (also called Growth Paper or Plantable Paper) for their direct marketing to reach their target group in a positive way. Good direct Marketing is attractive and has a strong impact, and now there is even an environmentally conscious solution to promote your message. Seed Paper is sustainable, unique and creative and can be planted after reading the message. We are happy to tell you more about growth paper in this blog.
What is Seed Paper?
Seed Paper is made from recycled material, so there is no need for trees. Your message on Seed Paper attracts attention and is often used for direct mailings, flyers and cards, but can also be developed in special shapes and sizes such as wristbands, pendants or coasters.
The Seed Paper can be composed of different seeds like a mix of summer flowers, poppies, roots, lettuce mix or basil. Personalise the plantable paper with your logo, advertising message or other suitable message and get the attention in a green and sustainable way.

The unique thing about printing on Seed Paper that when the message is read, this promotional product is not just thrown away. The receiver makes the plantable paper bloom in 4 easy steps.
Promotion with Seed Paper
Personalised Seed Paper is actually suitable for every type of company. In the meantime, Leoprinting has been able to take care of many projects. For example, Virgin Atlantic Airlines opted for printed Seed Paper flyers with a mix of summer flowers and the outdoor brand The North Face recently opted for plantable paper hanging cards to promote the new recycled Thermoball ECO collection.
Another creative example is to use plantable wristbands festivals and events. In addition to the ecological wristband at the entrance, visitors receive a sustainable product that can be planted afterwards as a reminder. In short, compliments to the fully sustainable Belgian Festival Dranouter.

Would you like to use Seed Paper for your company? Visit our website and explore the possibilities!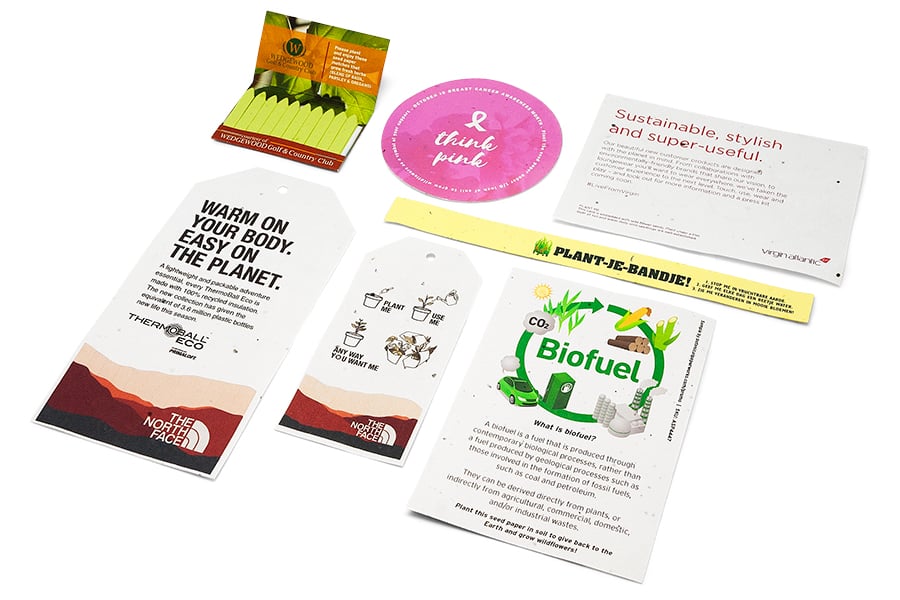 Passionate about creating your excellent promotional products.
How does it work?
And now, how does your Seed Paper actually grow. When the Seed Paper is placed in soil, the paper will compost, and the seeds will germinate and eventually grows to the final seeds of your choice.
Step 1: Preparation
You should fill the pot with potting soil by about 2/3. Think carefully whether you want to place it indoors or outdoors, because sunlight is needed but it doensn't need to get too much heat. Spring or summer would then be the most period to use Seed Paper.

Step 2: Planting
Now the real work begins! Place the plantable paper on the earth in the pot. If your paper is larger than the pot, it doesn't matter if it overlaps. Then sprinkle about half a centimetre of soil over the paper and press it gently.
Step 3: Watering
When the paper is planted in the pot, water the paper until it is well moist but does not drown. Keep the paper moist for the first 10 days so that the seeds germinate. After all, they first must separate themselves well from the paper and the paper must largely perish before they sprout.
Step 4: Let it grow
As soon as the first seeds germinate, you keep the paper moist but a little less than before, because the sprouts can drown quickly from this moment on. If the plants then become a little firmer, water them occasionally, just what they need to grow.

The seeds don't grow... What now?
Although we do everything, we can to keep the conditions for the Seed Paper as optimal as possible, it can happen that the seeds do not unexpectedly germinate. They remain living goods that you must have to handle with care. Possible causes could therefore be that the earth has not been kept sufficiently wet until it germinates, or that the earth is not rich in nutrients.

Furthermore, planting in winter or early spring is never recommended: for example, if you have received a plantable Christmas card from, it is best to wait until the spring or summer period. If you treat the Seed Paper with love and care, it can't go wrong.